Schoeller®-Keprotec®: for maximum protection
This extreme protective fabric was originally developed for motorcycle racing. High-tensile aramide fibres, such as Kevlar®, ensure high durability as well as temperature stability in combination with a high level of clothing comfort.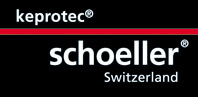 Areas of use:
Base material or trim for motorcycle wear, workwear, active sports wear, gloves, shoes.
Basic properties:
Highest protective properties

Extremely abrasion proof and fall proof

Tear resistant

Temperature resistant
Possible fabric components:
Cordura®, high-tensile polyamide, Kevlar®, different coatings and finishes.
Construction:
For lasting protective properties, Schoeller has developed special production processes such as special weaving techniques and core spun Kevlar® yarns. This leads to fabrics which meet the highest requirements.