Darn Tough Function 5 Over-the-Calf Padded Cushion (1810)
Darn Tough Function 5 Over-the-Calf Padded Cushion (1810)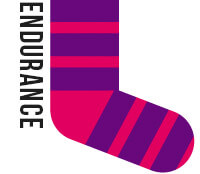 If you are interested in buying only Darn Tough socks, we offer you cheaper shipping (only 5,5 €) to countries within EU.
More info
Darn Tough Function 5 Over-the-Calf Padded Cushion (1810)
We worked closely with boot fitters to dial in five comfort pads to protect common pressure points. Shin padding protects from shin bang while Achilles padding reduces heel lift. We even developed a pad zone that protects the top of the foot from second buckle pressure. Yes, we are sock geeks.
FEATURES
Performance Fit: No slipping, no bunching, and no blisters.

Fine Gauge Knitting: Unprecedented durability and our unique "put it on, forget it's on" feel.

Fast Action Wicking: Pulls moisture away from skin. Fast drying.

All Weather Performance: Cool in the summer, warm in the winter.

Naturally Antimicrobial: Repels bacteria and odor.

Guaranteed For Life: No strings. No conditions. For life.

Merino Wool: The ultimate fiber for breathability and comfort in all conditions.

True Seamless™: Undetectable seam fusion for an ultra smooth, invisible feel.
SPECS
Padded Cushion: Take our Cushion sock and add high-density padding exactly where it's needed most—like the along the shin or under foot. Play all day.

Over the Calf Height: The name says it all. The ultimate height for keeping the outside—out.
INGREDIENTS
66% Merino Wool, 32% Nylon, 2% Lycra® Spandex

---

True Seamless™
Using the latest generation of Italian knitting machines, manufacturer is able to knit ultra-light yet extremely dense socks with an undetectable toe seam, here in Vermont. The result is miles and miles of blister-free bliss.
Feel the difference of feeling nothing at all!
Guaranteed for life.


Read more about Darn Tough socks here...
Made in Vermont, USA