Event DVL - waterproof and windproof membrane
eVent waterproof and eVent windproof use Direct Venting™ technology. How it works?
eVent DVL waterproof fabric stands alone in this class of fabrics because it does not use a polyurethane coating to protect the membrane from contamination. Polyurethane, applied as a coating, clogs the pores of the membrane and impedes airflow. In eVent fabrics, by comparison, the individual fibrils forming the membrane are treated so the pores remain open or air permeable and heat and moisture can pass through directly. That is Direct Venting technology.
Most common waterproof/breathable membranes do not literally "breathe." Instead, they move sweat in two slow steps by a process of diffusion through a Polyurethane (PU) layer. Because a PU absorbs and retains sweat, the inside of the fabric becomes wet. Then, body heat begins to push that dampness through to the outside of the fabric where it can finally evaporate–a very inefficient process.
eVent Fabrics get their unique properties from a proprietary and patented waterproof membrane, Its unique composition allows millions of tiny pores to breathe at their full potential. Sweat vents directly to the outside of the fabric in one easy step. We call this Direct VentingTM Technology. Its genius is hidden in its simplicity.
eVent fabrics are primarily used in consumer applications including outdoor, snowsports and cycling apparel, accessories, shelters, footwear and gloves.
eVent fabrics also provide protection and membrane technology to professional services including branches of the military, firefighters, emergency response teams, police officers and other industries.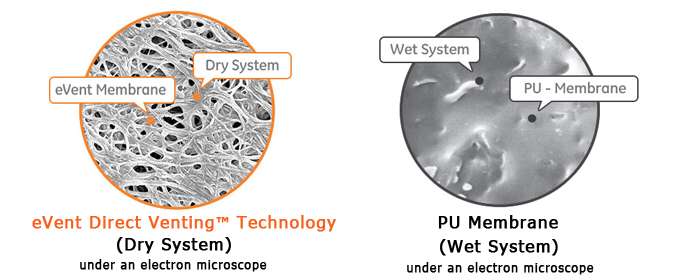 eVent DVL fabric is a lightweight, highly breathable waterproof laminate geared toward making unlined garments that are great for light outdoor and aerobic activities.