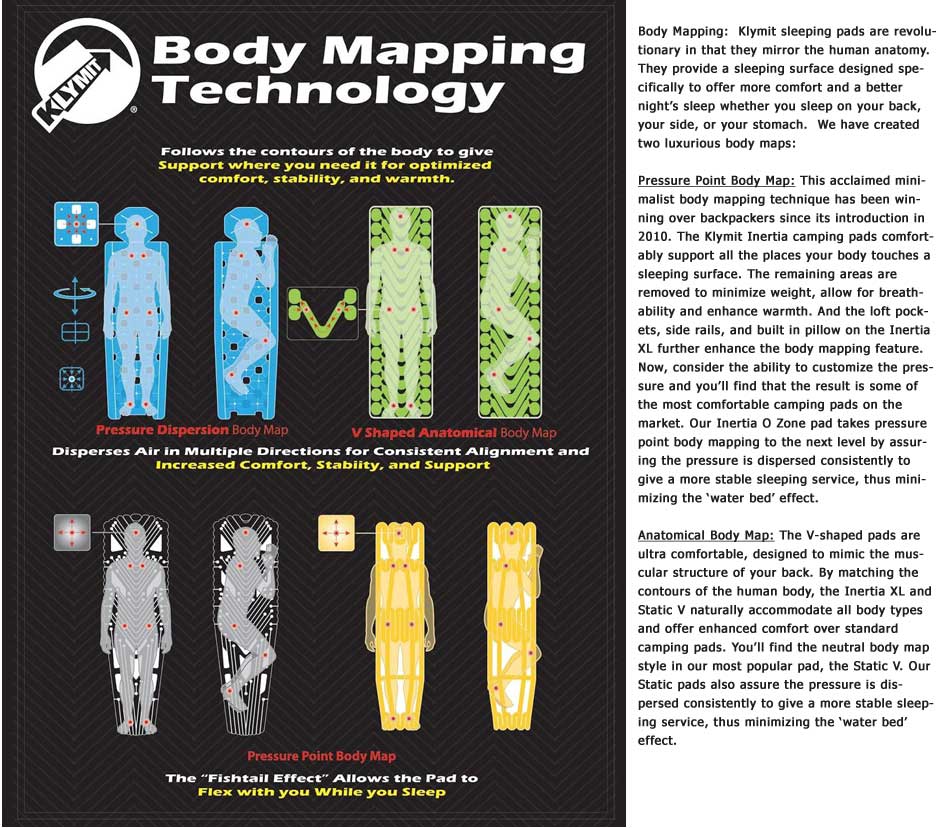 Advantages of Body Mapping


Air Dispersion: Natural dispersion of air deters air movement, making an inflatable pad more comfortable, more stable and more supportive.
Deep, Shaped Welds: The deep welds with varying widths and tapers are shaped to map your body. This technology, combined with superior welding results in a more comfortable and durable pad using lightweight fabrics.
Thermodynamic Efficiency: Heat is distributed across the channels utilizing both loft pockets and the weld channels to more efficiently capture and retain warmth.
Volume Control: The volume of air in the pad was customized so that it only takes a few breaths to inflate and quickly deflates, drastically increasing functionality and decreasing setup and take-down time.
Dynamic Flow Control: The air is dispersed in multiple defined locations and directions to add comfort as you move while sleeping. Air is focused towards the side rails as you approach the edge which naturally pushes you back to the center of the pad, and keeps you located in all night long.
Dynamic Movement: The "Fishtail Effect" is designed to felx with you while you sleep in the fetal position. It hingers at the point of the knee, and curls up with you.
Anatomical Neutrality: Inhibits the movement of air into lower back. As a result, the weight of your torso doesn't cause your legs to elevate.