Polartec® Alpha®
Polartec Alpha was developed to meet the performance requirements of the U. S. Special Operations Forces (SOF). SOF required something that was warm, wind resistant, highly durable, quick drying and more breathable than any existing insulation products. Polartec was able to tune the performance characteristics of Alpha to meet the extraordinary demands placed upon clothing by Special Forces Operators. In testing by SOF, Alpha received the highest results of any Polartec product ever tested by the evaluation team. Polartec Alpha jackets are in production and are being fielded to every Special Forces Operator.
Read what manufacturer has written about Polartec Alpha:
Polartec® Alpha® is highly efficient insulation fabric, based on the Polartec Thermal Pro High Loft technology platform. This technology is uniquely suited to create warmth without weight, and exceptional breathability, compressibility and dry times via high loft fibers in a low density knit.
It offers a combination of unique performance attributes, vis a vis other synthetic insulations, that are highly valued by an outdoor athlete looking for versatility. A Polartec Alpha garment can be worn in both the "stop" and "go" phases of outdoor activities. Current market synthetic insulations are not breathable enough to handle the "go" phases of most backcountry pursuits. They are typically additional garments that must be carried for use during static period. Polartec Alpha maintains insulation values while wet and is naturally wind resistance. Polartec Alpha excels at providing comfort for users on the move. Read more...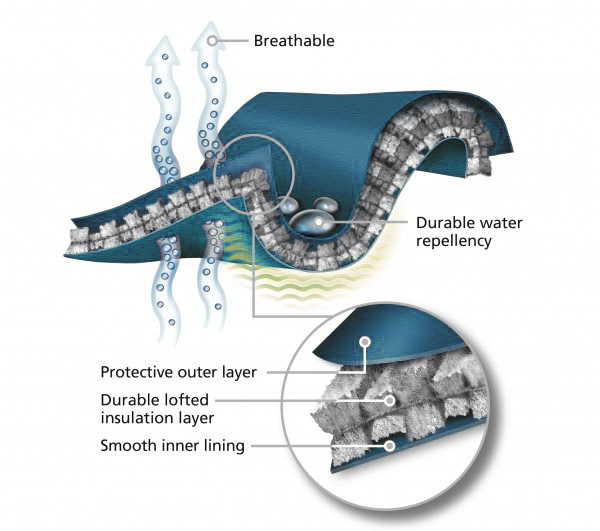 Review of Westcomb Tango jacket from backcountryskiingcanada.com
"Soft, light, stretchy, warm and comfortable - that's how I would describe this jacket. All admirable attributes of any outdoor garment and 5 reasons why the new Westcomb Tango has found a permanent place in my hiking and ski touring wardrobe. With winter still a few months away I had to test this piece at elevations where cold winds always blow and a good mid layer is crucial. I have tried plenty of other mid layers made out of miracle fabrics but the Westcomb Tango with Polartec Alpha is the first layer that really keeps me warm while not limiting breathability and comfort due to range of motion. While the Westcomb Tango is not as toasty as down it does keep you very warm and is much more versatile than a big down puffy jacket, especially for summer mountaineering trips. It's also incredibly light at just 397g so it goes everywhere with me and I can't wait to test it out ski touring this winter." Read more...