Schoeller® Dynamic
Schoeller® Dynamic are comfortable allround functional fabrics. Characterized by durability, freedom of movement and a high level of clothing comfort, makes schoeller®-dynamic the preferred fabric for technical apparel. The different colour versions can be used in summer and winter wear.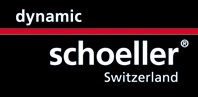 Areas of use:
Jackets and pants as well as trims for active sports, fashion, workwear.

Characteristic:
High and permanent elasticity

Water repellent

Breathable

Durable and hardwearing

High level of comfort

Possible additional functions:
Through the use of various additional finishes, special yarns and colour effects, further functions can be combined in order to optimize the fabric for the respective area of use, for example:


Advanced Moisture Management

3XDRY®

Water and dirt repelling properties, such as

NanoSphere®




Possible fabric components:
Cordura®, Dorlastan® or polyamide, polyester.

Construction:
Single-layer fabrics in different versions: from light leisure varieties to "high-endurance", i. e. fabrics with the highest performance regarding abrasion and durability.