Evernew America is a company known for its titanium cookware which is engaged in production titanium cookware for 15 years. Their reputation for the highest quality, lightest weight and most compact backpacking gear is unsurpassed.
Titanium is the ultimate material for use in backcountry travel. Not only is titanium exceptionally versatile, it's also lightweight like aluminum, stronger than stainless steel, and fully corrosion-resistant. Evernew uses a non-Teflon, silicon based ceramic coating and does not use PFOA in the coating. PFOA, Perfluorooctanoic acid, is used in the production of Teflon. Little is known about PFOA, but what is known raises strong concerns regarding human health - especially the effects on children. Seven major manufacturers of Teflon coatings agreed in January 2006 to discontinue the use of PFOA by 2015
All products are very high quality in terms of the material, the pressing process, the strength/durability and the finish.
The material are all made by Nippon Steel Corporation, the largest metal material supplier in Japan. We use TP35C JIS Ver.2 sheet metal Titanium, which is currently the best material in the world.
Regarding the pressing process, they use "Cold Press" method, where most of the Chinese products are made by "Heat Press" method lowering the raw material quality as well as the finish surface quality. Heat pressed Titaniums are more darker in color, sometimes very dark gray close to black, and the surface is not very smooth.
In the production they use normal pressing machines, but the press speed and the temperature are totally controlled by skilled craftsmen.
The alcohol stoves and many of products made by 0.4mm sheet are very cleanly made and the product quality stability is very high with less than 3% B-class products. They check every single products before being shipped.
But more than that, the 0.3mm Ultra Light collections are what Evernew only can produce at the moment. Many Chinese and even some Japanese brands are trying to produce 0.3mm products, but none of them have succeeded so far, with nearly 50% of B-class products.
Some are announcing that they have 0.3mm products in their lineup, but they are only the lids or partially used in the product and not fully applied.
The attention to detail really sets these pots apart from much of the competition.
Evernew pot combine more features into one pot and weigh less than much of the competition. For example, Pasta Pot. The Pasta Pots are different from the rest of the Evernew Ultralight range in that they incorporate a 'strainer' into the lid, which is a very neat addition
The Evernew pot handles are covered in a heat resistant silicone tubing for easy grip.
Evernew pot's are beautifully made using the highest quality Titanium and 'cold pressed' and they may be a bit more expensive than the norm, but we are confident you will never regret your purchase.
Evernew titanium cookware allow you to nest together entire pot's series from 640ml trough 5800ml for compactness.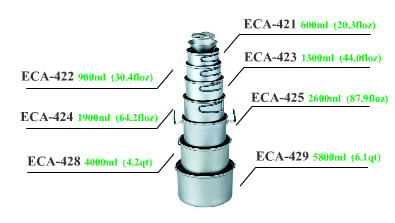 Read more in reviews here:
"Three indisputable truths: Backpackers love good camp food, love lightweight gear, and hate cleaning pots, especially when half of the meal is burned to the bottom. Let us add a fourth: Backpackers who do any cooking more advanced than boiling water should carry one of Evernew's cooksets.
The titanium makes them featherlight and nearly as tough as a Dutch oven. The nonstick coating guarantees you'll never spend an hour chiseling off heat-welded crud. Folding rubberized handles make for easy packing and handling. Yes, there are cheaper non-titanium options, but none that will perform this well and last for decades. And with 34 models of pots, billies, and fry pans to choose from, there's one for every hiker." Read more here...
www.thunderinthenight.blogspot.com