How to wash eVent garment?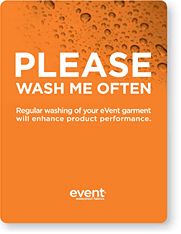 Always follow the garment manufacturer's care and use instructions. Below are general considerations for maintaining garments with eVent fabrics. Avoid heavy soiling, which could affect membrane performance temporarily. Thorough washing will generally maintain and restore product performance. Regular washing of your eVent garment will enhance product performance. Your garment may be machine washed in warm water (110F / 40C) with liquid detergent, and we recommend a second rinse to remove all traces of detergent from the fabric. We recommend you drip-dry your garment. Remember also to refer to the garment manufacturer's guidelines.
Do not use fabric softeners or bleach. Never dry-clean your garment. We also recommend that you avoid ironing the garment, but if you do, use the steam setting on no higher temperature than "warm". At some temperatures, the heat from the iron can have a rejuvenating effect on the DWR finish but there is a greater potential for fabric damage if the iron is too hot.
How to maintain DWR?

Your garment made with eVent fabrics may contain a durable water repellent finish (DWR) on the exterior of the fabric that serves as a first barrier to penetration of the fabric by external water. This DWR finish degrades over time and will occasionally need to be replenished. You will be able to tell when this water repellency has degraded because water will cease to bead up on the fabric. Even though the waterproof eVent membrane is still keeping the water from passing through the fabric, performance will be increased if you maintain the DWR finish with regular treatments. We suggest treating the DWR finish at the same time as your regular garment washings.Once the garment has been washed, we recommend using a re-proofing agent to completely restore surface water-repellency. These are available in both spray-on and wash-in versions. For further information about eVent® please visit www.eventfabrics.com
Click here to find Granger's cleaners for cleaning technical outdoor clothing.