EuroSchirm Light Trek umbrella
EuroSchirm Light Trek umbrella - the first professional hiking pocket umbrella.





More info
EuroSchirm Light Trek umbrella - the first professional hiking pocket umbrella. Some outdoor outfitter shops offer a couple of small pocket umbrellas for hiking and trekking which appear to be suited for extreme outdoor purposes, but whose interior is often nothing out of the ordinary. Only the latest and best materials for pocket umbrellas are applied to the light trek.
Extra lightweight, extremely strong, Teflon®-coated Polyester fabric with double stitched seams between segments. Frame with special aluminium-profile-shaft, additional frame parts of fiberglass, anodized aluminium and fiberglass polyamide, all frame parts are highly elastic, decay- and corrosion-resistant. High-density EVA hardfoam handle comfortable to the touch with a safe grip and integrated floating compass.
Each umbrella comes in a rugged Nylon case with Polyester mesh sides and carrying loop that allows it to be attached to your backpack or belt easily as well as an aluminium-carabiner for alternative mounting to the carrying loop. EVA hard-foam-top has additional abrasion protection of the canopy, for leaving the sleeve case at home.
This small, convenient and lightweight hiking umbrella meets your high standards of stability and resistance even under unfavorable conditions.




---
Weight: 255g / 9 oz.


Measurements

Lenght of folded: 28cm

Full lenght: 61cm

Diameter: 98 cm



---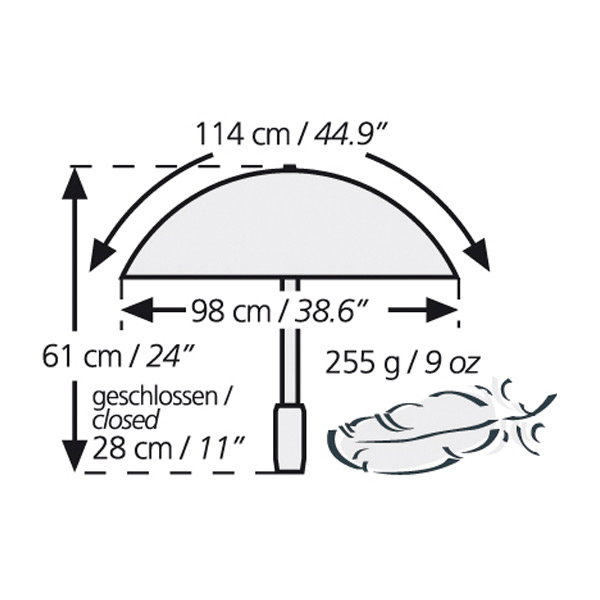 NOW! New silver

umbrella

with

UV protection factor 50+

You can protect yourself now against UV rays and heat with the brand new Silver Metallic Coating, UV protection factor 50+ (TÜV certificate). Outside Silver, inside Black.


The family-owned company EBERHARD GÖBEL GMBH+CO KG has been developing and manufacturing extraordinary umbrellas that reflect the highest German quality for more than 90 years.

Trekking Umbrellas - light-weight and strong - the perfect complement to modern rain gear when hiking. Free from perspiration as there is no uncomfortable heat built-up.